1. Peter Petz Mini Park 1886

<![if !vml]>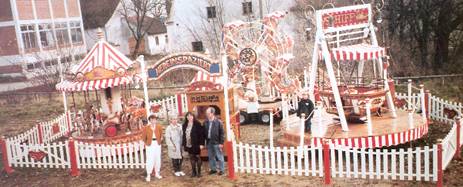 <![endif]>
This is a small park, perfect for zoos, restaurants, sight seeing points, piers and beaches.citymarkets or Malls
To operate the unit there is the need for only one person to operate.
Area required: 25 x 25 m (625 square meter)

The Peter Petz Mini Park comes with following rides and equipments.
one Lafayette Carousel, Opt. B, diameter 3 m, with additional pre-roofing trailer mounted 12 pers.
one Mini Ferrier Wheel, with 4 gondolas trailer mounted 8 pers.
one Mini Steam Ship Trailer mounted 6 pers.
one cashier box and one popcorn machine
24 fences and 4 laterns
one entrance equipment with brass circus lamps
EURO 130 500,--
<![if !supportLineBreakNewLine]>
<![endif]>
2. Peter Petz' Nostalgic Steam Park 1886
<![if !vml]>

<![endif]>
This phantastic scenery bring back the good old time for you and your visitors. The steam fair ground guarantee the best in family entertainment: and fine and friendly good old styled park atmosphere.
Our offer includes-
Two Cashier Boxes
-Lafayette-Carousel, d=3 m, roadmodel, for 12 persons
-2 Kiosks for redemption games etc.
-Steam Swing Boat, roadmodel, for 12 persons
-Nostalgic Steam Wheel, roadmodel, for 20 adults or 30 children
-Saxonia Steam Train, roadmodel, for 20 persons
-Miniature Steam Carousel, d= 4 m, roadmodel, for 25 persons
-Coinoperated Carousel, d= 1,88 m, Option I A or II A, 3 or 6 seats
-Pavillon, d= 10 m, with canopy for games or coffee shop
-Striker, hight 6 m, stationary
-36 Fences and circus laterns
-two advertising pillar
-entrance gate with transparent
The capacity is about 2200 persons per hour
EURO 271.000,--
3. Peter Petz' Nostalgic Steam Park 1886 & Carousel Bar &
Restaurant
Enlarge your Nostalgic Steam Park (as descriped No. 1) and get great hospitality beside the entertainment for your audience with the world's largest Carousel Bar & Restaurant, trailermounted, for 120 guests, reg. in the Guiness Book of World Records.
- Peter Petz Nostalgic Steam Park 1886
- Carousel Bar & Restaurant, transportable
- add. 50 fences and 12 circus lamps
EURO 500 000.-
<![if !supportLineBreakNewLine]>
<![endif]>
4.Nostalgic Steam Park 1893 & Grand O'Steam Doubledecker
Carousel
The Nostalgic Steam Park 1893 plus the Grand O'Steam Carousel which is registered in the Guiness Book of Word Records, trailer mounted, two-storey for 84 persons. The Grand O' Steam Carousel has a large steam engine in the middle center, the audience is riding around
The capacity for this park is 3.880 per hour and 31.040 per day
- Peter Petz Nostalgic Steam Park 1886
- Grand O' Steam Double decker Carousel
- add. 50 fences and 12 circus laterns
EUR 557.30o.-
5. Peter Petz' Nostalgic Steam Park 1893 + Grand O'Steam Carousel
& Carousel Bar & Restaurant
Perfect solution for entertainment, food and fun
Our offer includes
- one Peter Petz Nostalgic Steam Park 1893
- oneGrand O'Steam Doubledecker Carousel
- oneCarousel Bar & Restaurant and we
- add. 50 fences and 12 circus lamps
EURO 710 700.-
<![if !supportLineBreakNewLine]>
<![endif]>